Cockxyme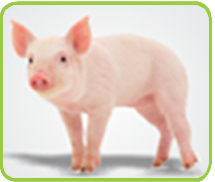 Cocktail Enzymes for Poultry & Swine
It is a blend of different Enzymes that takes care of various digestive associated problems in Chickens like, the effect caused due to the presence of non starch polysaccharides, galactosides, phytates and other antinutritional factors etc.
Benefits
Optimizes the use of conventional and non conventional feed ingredients.
Improves feed conversion ratio (FCR).
Increase in weight gain of broilers, number of eggs in layers.
Reduces wet droppings, odor and improves litter quality (Less microbial contamination) leading to cleaner eggs.
Improves uniformity of flocks & weight gain.
To get more info on Cockxyme click here    


Or please get in touch with us at info@adbioenz.com